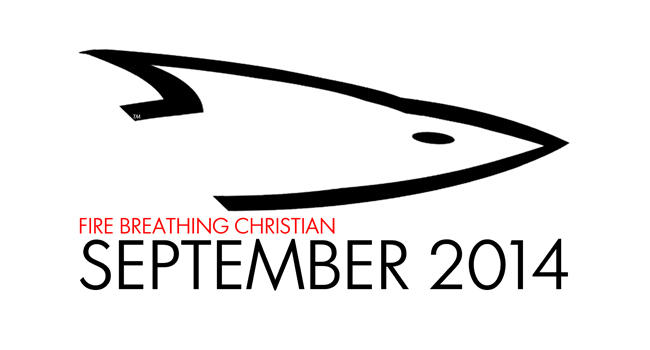 With the re-launch of Fire Breathing Christian into a dedicated blog site as of August 1 of this year, and with posts having been made almost daily for nearly four months now, it seemed like it might be a good time to send out monthly summaries with the titles and links to the articles posted in these first few months. If you know anyone who might be interested in the Fire Breathing Christian mission, this monthly summary might be worth sending their way so they can get a taste and feel for what we're writing about and how we're doing it. Your support in spreading the word on Fire Breathing Christian is more appreciated than you can know. Thank you!
That said, here's the rundown of articles posted in the second month of Fire Breathing Christian – September of 2014:
Happy Labor Day, Slave. (Be sure to run faster and chase harder after the "money" that your masters make out of thin air.) (September 1)
POLL: Which "conservative" news source or personality has a solid grip on reality? (September 2)
Two words to help us trust, obey, and adore God. (September 3)
Zombie Religion and McGospel Salvation: So easy a dead man can do it. (September 3)
The Zombie Appeal of American Churchianity (September 4)
Mitt Romney preaches the New World Order gospel of perpetual war and an all-powerful State…again… (September 4)
Why All Christians Should Own Robots (September 5)
Need (another) war? No sweat! Just play The Hitler Card. (September 6)
How American Conservatives happily forge the chains of American Socialism (September 8)
POLL: Which gigantic culture-shaping Socialist program will mainline "conservative" Republicans campaign to eliminate in 2014? (September 9)
Weaponized "Love": The perversion of Christian love into a weapon of Christian persecution (September 10)
The God who owns time (and everything in it). (September 11)
Everybody Expects…The Liberal Inquisition! (September 12)
Openly Reject God's First Commandment? YES! WE! CAN! (September 13)
Everybody Expects…The Liberal Inquisition! (Part 2) (September 13)
Candy Christianity: America's Counterfeit Gospel (September 13)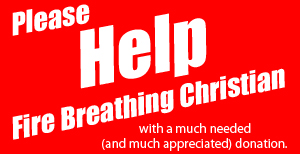 Meology vs. Theology: Putting God on Trial and Man on the Throne (September 15)
The (not so) Great I (probably) Am: The Man-Centered Myth of the "Probably God" (September 16)
Obacalypse Now: War, Famine, Pestilence, and Wicked Leadership in Romans 1 America. (September 17)
The Beginning of Learning: Christ as the Essential Core of Children's Education (September 18)
Enemy of the Statist: Christ-Centered Liberty vs. Man-Centered Tyranny (September 20)
Intro to Fire: The Power and Purpose of the Common Believer (September 22)
Well color me satanic and call me America! (Or: How our cherished religious tolerance for false gods will ultimately kill us.) (September 22)
Fiat $lavery: We have been bought and paid for…with nothing. (September 23)
The Alpha of Apologetics…and Everything Else (September 24)
Razing Hell: The Christian Call to War on Autonomy (September 25)
Remember when a bunch of naked guys on bikes riding past a crowd of little girls was a bad thing? (September 26)
Call me crazy, but I think this Islam thing just might be evil. (September 27)
So the American State has to destroy our freedom in order to protect it? Oh yeah, that makes sense. (September 27)
Remember the days when child sex advocates were flogged or jailed instead of celebrated and published? (September 29)
How 'bout that awful Patriots' D last night? Along the Mexican border, I mean… (September 30)
Are people who cannot dissolve a political union really free? (September 30)
~
If you know of anyone who might appreciate this post, please share it. If you'd like to help support the Fire Breathing Christian mission, please click here.
Please also "like" us on Facebook and feel free to sign up for new articles by email using the button in the upper right corner of the FBC home page. Thank you for your support!
© 2015 Scott Alan Buss – All Rights Reserved.
Soli Deo Gloria!